INDOOR AIR QUALITY
Is your home air healthy? Live in a healthier, more comfortable home.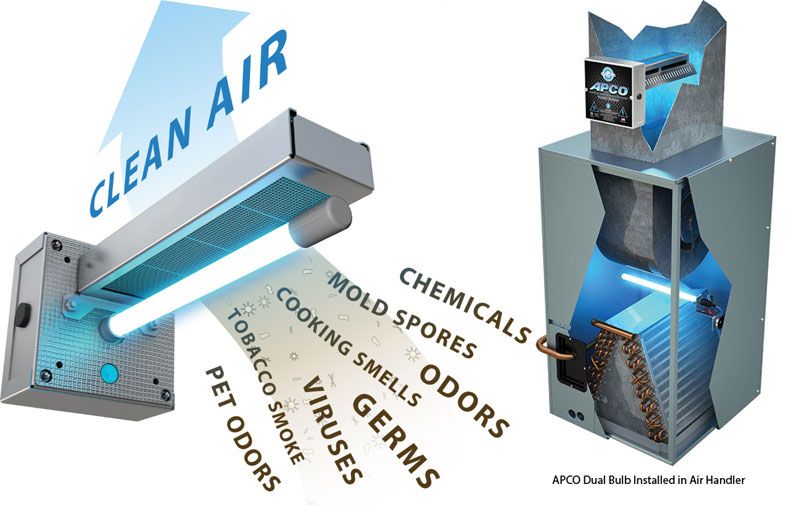 Vital Air has been and will continue serving the residents of Atlanta and North Georgia for all of their HVAC and Air Quality concerns. Our technicians are certified and trained to be a part of our team. Along with providing installations, comprehensive maintenance, Indoor Air Quality improvements and repair, our services are affordable. Learn more about what we can do for you by reaching out for a free in home or remote consultation.
Covid-19: Ventilation and filtration provided by heating, ventilating, and air-conditioning systems can reduce the airborne concentration of SARS-CoV-2 and thus the risk of transmission through the air. Conditioned air can be filtered and treated using a variety of methods to include Bi-Polar ionization generators, UV lights, Electronic air cleaners and Higher MERV filters. Unconditioned spaces can cause thermal stress to people that may be directly life threatening and that may also lower resistance to infection. In general, disabling of heating, ventilating, and air-conditioning systems is not a recommended measure to reduce the transmission of the virus.

American Lung Association: The American Lung Association states that the air in your home can be 5 to 70 times more polluted than the air you breathe outside. Causing issues such as asthma, and allergies. As well as breeding ground for mold and dust mites.

Industry-leading products: As a partner with the leading names in indoor air quality products; Aprilaire, Honeywell/Resideo and Lennox we offer some of the best available solutions in the industry.
Top Factors That Affect Indoor Air Quality: Chemicals - exposure to Volatile Organic Compounds (VOCs) from new paint, flooring, and other furnishings can cause several health problems, like nausea, fatigue, and allergies. Ventilation - EPA states that Insufficient ventilation can trap the polluted air indoors, which can lead to bacteria, pollen, and dust buildup. It's important to introduce fresh air into your building by opening your windows and doors as well as taking advantage of your exhaust fans or controlling what enters the building envelope with ERVs and Fresh Air controls/Dampers. Humidity Levels - Whole-House Dehumidification to keep humidity at an optimal level is key to clean air. Too much humidity can create a breeding ground for mold and dust mites, while lack of humidity can cause rashes, dry skin, and eye irritation. Ideal range is 30-55%. HVAC Issues - Improper/Insufficient filtration for systems, unsealed ductwork, dust or dirt in ductwork and other components can pollute the cooled or heated air circulating in your home. Excessive moisture caused by air leaks can also encourage mold and mildew growth, which can trigger health conditions. Avoid these problems by maintaining your HVAC system regularly.
Click for more information on Whole House Ventilation Or Reach out for our comfort advisor team to help you access your home for possible improvements and a free air quality assessment. Our indoor air quality products can enhance your quality of life!
No matter what season or weather awaits you outside, we're confident that with our help, your home will be the most comfortable place to be!